Tedeschi Trucks Band Tour 2019: Tedeschi Trucks Band, formerly known as the Derek Trucks & Susan Tedeschi Band, is an American blues-rock group from Jacksonville, Florida.
The band started in 2010 when husband and wife Susan Tedeschi and Derek Trucks each put their solo bands on hiatus so that they could put more time into making music with each other, both during the recording process, as well as during touring. They were later joined by Maurice Brown, Kofi Burbridge, Tyler Greenwell, J.J Johnson, Mike Mattison, Mark Rivers, Saunders Sermons, Kebbi Williams and Oteil Burbridge. As Tedeschi Trucks band, they made their first live performance at the Savannah Music Festival in April 2010, followed by appearances at Crossroads Guitar Festival and Fuji Rock Festival (among many others).
Search & Discover Tickets From This Event On : Ticketmaster
Tedeschi Trucks Band released their first studio album entitled "Revelator" that was released on 7 June 2011. The album garnered a high praise from critics, including Rolling Stone, who gave it a four out of five rating. Additionally, the album went on to win a Grammy Award for Best Blues Album in 2012. Their second album, "Everybody's Talkin'" was a live album consisting of performances of "Revelator," as well as covers of other well known rock, R&B and gospel songs. Despite the success, Oteil Burbridge took leave from the band to pursue a family life, and was replaced by Tim Lefebvre. The band continued on making life performance appearances, and in 2013 they released their second studio album entitled "Made Up My Mind."
Biography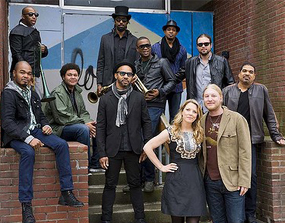 Band Members
Susan Tedeschi
–
lead vocals, rhythm guitar
Derek Trucks
–
lead guitar
Maurice "Mobetta" Brown
–
trumpet
Kofi Burbridge
–
keyboards, flute
Tyler Greenwell
–
drums, percussion
J. J. Johnson
–
drums, percussion
Mike Mattison
–
harmony vocals
Mark Rivers
–
harmony vocals
Saunders Sermons
–
trombone
Kebbi Williams
–
saxophone
Tim Lefebvre
–
bass
Tedeschi Trucks Band formerly known as the Derek Trucks & Susan Tedeschi Band — is a blues rock group based in Jacksonville, Florida, USA. Formed in 2010, the band is led by husband-and-wife musicians Derek Trucks and Susan Tedeschi, and primarily features members from their solo groups. Their debut album, Revelator (2011), won the 2012 Grammy Award for Best Blues Album.
The Tedeschi Trucks Band was founded in 2010 after both Derek Trucks and Susan Tedeschi put their solo bands on hiatus to form a new group that lets the married couple focus on making music together, and allows them to spend more time together while touring and recording. Derek Trucks and Susan Tedeschi had toured together in 2007, under the name Derek Trucks & Susan Tedeschi's Soul Stew Revival; this group's material was largely culled from Derek and Susan's solo projects, while the Tedeschi Trucks Band mostly focuses on performing original songs.
After the announcement in late 2009 of a hiatus for both The Derek Trucks Band and Susan Tedeschi Band, the couple began writing new material, working out of their home studio in Jacksonville with a rotating cast of friends and musicians. Their first concert was on April 1, 2010 at the Savannah Music Festival, and although their touring schedule was limited in 2010, the group did perform at Eric Clapton's Crossroads Guitar Festival, Fuji Rock Festival, and several other festivals and venues.